The story below features one of my favorite interviewees ever -- an actress turned bona fide medical doctor (how many times do you run into that?!). I found her while reporting on a nationwide medical student ritual called, Match Day. Read on for more...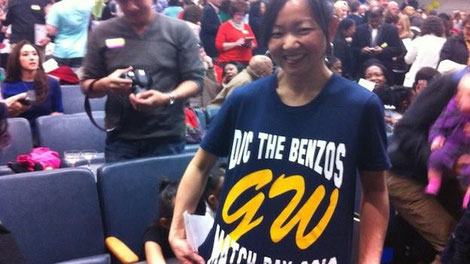 Fourth-year medical students all across America opened envelopes in a synchronized ceremony revealing their residency assignments. It's called Match Day, and one GWU student's match puts her right back in the center of her Hollywood roots.
For many of the soon-to-be doctors, their stories are pretty much the same: pre-med majors who have dreamed of becoming doctors since they were children. But not for Hyuon. She's a former actress and film editor with huge Hollywood credits under her belt, like "Being John Malkovich" and "Con Air." But at age 35, she decided to take on her most dramatic role yet.
"It was somewhere in my later 20s, early 30s that I felt that I wanted to give back to society in a different way," she says. "Doing entertainment as an actress, it was fun, it was great, but I didn't feel like I was giving back to the community."
So Hyuon started volunteering in an L.A. area emergency room and taking pre-med courses at the University of California Los Angeles.
"I thought, let me go volunteer at the hospital," says Hyuon. "And it was fantastic from the get go."
She then applied to medical school at The George Washington University and was accepted.
"And I went for it! I was like, 'let's do this!'"
Now four years later, with a husband and two toddlers in tow — one who was born during her third year of medical school — the 39-year-old is heading back to Hollywood. But this time as a doctor, not just someone who plays one on TV. Hyoun's residency will be spent at the place where she first fell in love with medicine: UCLA.
The medical school's associate dean, Scott Scroth, says he couldn't be more proud of their first actress-turned-doctor graduate.
"She's going to be going to UCLA in psychiatry, and it's kind of an amazing moment when they open their envelope and find out where they're going to be for their next four plus years," he says.
Hyoun's area of concentration will be in women's mental health.
###
This story original appeared on WAMU.org, accompanying a radio piece on 88.5fm. Original post can be found here: http://bit.ly/1bmAFnT