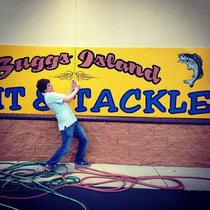 Over the past few weeks, I have been traveling a lot for a summer series we're producing at work called, Road Trippin'. 
My producers and I were all so ecstatic to get the assignment because that meant getting a break from the hot lights and routine of the studio, but boy were we in for a shock when we got out in the heat and humidity (with all of our equipment) for our first few road trips. I quickly learned that the road trip wasn't going to be all fun and games, but more like hot, sweaty work in the sun with a little fun sprinkled in the mix.
So far, I've been in the car with my producer Jon for a total of 14 hours, slept (mouth open) for only about 3 hours,  though), ate lunch at 4 road side dives, used the ladies room at 6 truck stops... and we've only visited three desitnations!
Oy! Good thing I get along with this guy, otherwise I'd be screwed. 
Anywho, here are some lessons learned from those trips, along with tips for road trippin' with colleagues:
Be on time! If you've got a long way to go, you don't want to be the reason why the whole crew is late. 
Wear sunscreen and bring several bottles of frozen water (it'll melt by the time you get there). Field shoots in TV can mean being out in the sun for a full 8 hours or more. And unless you've made it big, that also means you'll be helping to carry heavy equipment under the blazing sun. The only way to not pass out is to protect your skin and stay hydrated. 
Eat a hearty breakfast. Guy Fieri makes road side dives look way too cool. But in reality, chances are the food at your pit stops will be mediocre -- at best -- especially when you're passing through some of the smaller towns. Also, who knows when you'll get a lunch break when traveling on a schedule. Maybe a shot will run long and lunch is pushed back two hours. It happens. 
If you feel yourself falling asleep in the car, set your iPhone alarm to go off in 30 minutes so you don't snore in front of your colleagues.
Use the bathroom at every single pit stop, even if you really don't have to go that bad. You don't want to be "that girl" who is always asking the driver to pull over every 20 minutes.
Try to have fun! Take silly pics with your coworkers (see photo above), listen to each others music and get to know one another... it makes the road trip go a whole lot smoother. 
xoxo, 
Markette
P.S. -- Here's a look at the finished product from our first few trips: Road Trippin' on FOX.