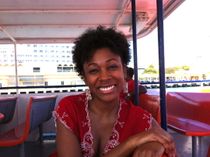 I have tried everything... at least twice... when it comes to the taming of my 'do. But only a few things have worked for my natural, curly, kinky hair that I straighten about once a week with a flat iron.
The one and only product line that I have found to work wonders on my hair type is DevaCurl shampoos and conditioners. Their products have been working for me for a few years now and they feature a great sulfate-free shampoo and creamy (as opposed to watery) conditioner.
I started out with a travel pack that was a gift from a colleague, but now I almost exclusively use their Low Poo to wash and Heaven in Hair conditioner to hydrate and tame the frizz.
Check it out ladies (and gents) and let me know what you think!
www.mydevacurl.com